Background:
Grease coming out from the prop seals, valve covers leaking oil more than ever before, Smiles on our faces and clear thoughts in our heads…… This is how the trip ended. For now, we head to Napa wine country for our 1st stop.
We got back safe and sound with feet on the ground after having an AMAZINGLY fun flying adventure.
My stunningly beautiful wife, Monique, and I had 5 days off of work and a HIGH PRESSURE SYSTEM all across California, bringing EPIC VFR conditions!!
We decided to load up our Piper Comanche 260 (with all of Moniques stuff) and head for anywhere that was not home. And, Oh man, can that woman play Tetris!!!
We didn't really have a plan. In fact, we didn't even plan on leaving for 5 days until the morning of our departure. A lack of communication days prior about future plans lead us to discover that we were free as a bird for 5 days. No work, family obligations…..nothing.
I asked my wife where she wanted to go and she blurted out "NAPA!"….. Being two big wine lovers, It was OFF TO NAPA!!!!            
Route:
We literally flew direct from French Valley airport in SoCal to Napa airport. One LONG straight line.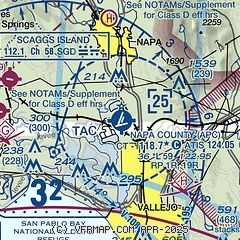 Enroute:
The flight was amazingly smooth with little navigation challenges. ATC was very quiet that day as we sat in silence for up to 10 min at times. Of course, I did frequent radio checks to confirm we were not forgotten.
See how the Napa airport (KAPC) blends in seamlessly with its environment? This picture is looking north west.
Time in Flight:
Due to a vanishing low pressure system that day, we were victims of a 15knt head wind most of the flight. The wheels up time was a pleasantly smooth 2hrs and 35min that other wise would have been about 2hrs and 15 min.
Airport Environment:
As you fly into Napa from the south, the airport will be obscured by some1,000 foot hills on the south end requiring the pilot to watch his altitude while keeping close to the hills in order to avoid the "chop and drop" maneuver.
I found it very difficult to rely on visual identification of the runway numbers. The 1st thing on the airport I noticed was the Tower poking up among the flat ground.
ATC cleared us for 18Right. During this landing, the runway numbers were not apparent to me until i was on FINAL!! I used by directional gyro to guide my turns to 18R.
TIP: Watch out for the downwind to base leg!!! There is a hill that will be at about your base leg altitude if you extent your downwind too far.
TIP: It did not seem that Napa had a common use runway. We noticed pilots landing and departing from all runways. If I HAD to guess, the most common would be runways 18right and 18left.
FBO:
Small and quaint but can be annoyingly busy as large amounts of the rich and famous peddle out of their private jets flown by hired pilots. To be pilot or passenger…… I choose to pilot my own.
After landing we taxi to the Jet Center and were greeted a bit late by the personnel. We were towed to the south end of the ramp about 1/4 mile away from the FBO. I was not too happy to leave my plane so far away but they did provide shuttle service.
The staff was VERY friendly and accommodating. The FBO was small and quaint for a few people at a time but when the big private jets started arriving with the affluent  passengers, the FBO became loud and annoyingly small.
The fuel was surprisingly cheap for the renown Napa airport and the tie down fee was only 10 dollars per night. This included a free bottle of wine upon departure.
Thought:  For as much money as the Napa FBO sees on a regular bases, the FBO is considerably lacking in size and amenities. I have been to far less significant airports with much much larger and nicer FBOs. We were not impressed.
Near by Accommodations:
Napa is the wine capital for many people but what they don't tell you is that there is a LARGE amount of traffic to get from place to place. This includes all the wineries.
Our original plan was to stop in Napa, tour around briefly during the arrival day, move on to the next airport.  But we arrived at about 5pm and decided we could not leave without giving Napa a chance.
The next day we toured around the wineries, explored some of the burnt vegetation from the epic wildfires from 2017 and did some wine tasting.
The Napa area is very beautiful and the wineries seem to have more money than they know what to do with but it is INCREDIBLY over crowded, both in town and going to the wineries. The traffic we experienced going from winery to winery was frustrating to say the least. We were not impressed with the town of Napa. Perhaps it was because we were expecting Napa to be more like the Temecula wine country with rolling hills, big houses and more of a country feel. But  rather it felt like Los Angeles's 405 freeway with wineries on either side. We like solitude not crowds.
There was, however, an amazing place called Oxbow public market. This market reminded me of something found in Seattle….only in doors.
The Oxbow market had gourmet dinning and Bring-your-own-food bars!! a great escape from the hustle of Napa.
Places Stayed:
Napa valley hotel is a great place to stay. It seemed to me like a large B and B which offered a short walk to down town with amazing rooms and breakfast every morning. The staff was amazing as well.
breakfast area.
a PERFECT breakfast!! Some larger appetite folks may scoff at the size but its a perfectly health portion of healthy food! We loved it!
Thoughts:

Ill be blunt. Although there were many nice things about Napa, there were not enough to pull us back. We will not be back, unless the weather requires us to divert.
Bottom line is that we are both VERY glad we went to Napa during our 5 day flight adventure, other wise we would have wasted a special flight and spent an entire trip disappointed in order to experience the OVER RATED Napa. Im not saying their wine is not good, Id just rather buy it in a grocery store for half of what the wineries charge and without the traffic and crowds.
If we ever want to have a relaxing time wine tasting, we will go to Paso Robles. Napa's busy wineries were so packed that there was no time for wine education during the tasting. We felt like cattle, herd you in, herd you out, drink this red drink, buy a bottle then get out. There was very little personal effect and for that reason Id rather buy a bottle from Napa in the stores at home and avoid the pretentious crowds.
Sorry if you disagree but we fly to places for vacations to AVOID crowds.
NEXT STOP- COLUMBIA Ca (o22)
A 30 min flight East from Napa would reward us with solitude, Airport camping, amazing views and an optional grass runway for those seeking more adventure.
Comumbia is a small mountain town who's history is rich with mining culture. Down town Columbia boasts original mining buildings that are home to shops and tourist activities. Even during the peak tourist times, the town remains tranquil.
Route:
From Napa, We fly a straight Altimatic-Autopilot line right to Columbia airport (o22). There were a couple squawks trying to pick up flight following as we departed Napa.
The tower at Napa gave us the wrong freq. to pick up Flight Following as we departed.
Subsequently, we were passed off to 2 other agencies before we were instructed by Oakland center to "call back in 5 min" for flight following.
I understand these guys and gals are some busy folks, but it seemed that no one knew who to pass us off to. Very disorganized……So it seemed. Ill post the freq. i found that worked later.

Enroute:
AMAZING time enroute. SUPER SMOOTH and NO wind which yielded us 163 knots over the ground. Dang I love the Comanche!!!
Time in Flight:
About 30 min from Napa
Airport Environment:
A bit tricky due to the trees and hills. The runway disappears on Right down wind for runway 17. Visually, I had a difficult time landing here.
TIP: During approaches into mountainous airports, plan to over flying the field. This would have helped me establish a better glide slope resulting in a smoother landing without risk of shock cooling the motor or coming too close to rising terrain. This is now my new rule to follow.
FBO:
Rustic and authentic, just the way we LOVE it!!

Near by Accommodations:
Down town is riddled with old buildings
Places Stayed:
We camped right behind our Comanche 260

Use caution when taxing to the camping area, although there is MUCH pride that has gone into this airport, rocks still can pose a threat to any prop.
Thoughts:
NEXT STOP KERN VALLEY AIRPORT (L05)!!!!!
We love this airport!! You can see our write up of Kern Airport on our home page.
Departing Kern the next day, I made the complacent mistake of not checking weather at our destination. The forecast was calling for amazing VFR conditions for 24 more hours. With the VFR forcast in the back of my mind and no service available for ForeFlight weather updates, I didnt check French Valleys weather and found this as we crested into the Los Angeles basin.
My heart sank as I thought, "Shit, how could i be so irresponsible by not checking the weather" although its not the worst scenario, after all, the prop was still spinning and I have not gotten us into a reduced visibility situation. I had plenty of diversion options.
This picture shows how bad the haze/smog gets in the LA basin (although this is not all smog). In fact, There were no overcast conditions anywhere on the METARS. You are looking at pure haze, yum!! I love LA!