Route: From French Valley we followed Interstate 15, climbed to 4500feet and remained east of I15 to avoid the Lake Elsinore jump zone. This flight to Corona airport (KAJO) is so short and radar coverage is spotty during low Alt flights and often don't get flight following, although it is much safer to.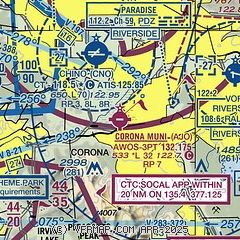 Time in flight: 10 to 15 min to Corona Airport
Airport Environment: KAJO (Corona airport) is class G (I believe). This airport is under Ontario international's class C airspace that begins at 2700ft. This area is particularly busy due to the "funnel affect" of traffic traveling in and out from Orange County/LA county. The traffic for this airport will require you to stay south during arrivals and departures.
TIP: Large airports exist within the surrounding areas that include Onterio International, Chino Class D, Riverside's Class D, and many more. Stay diligent when flying in this area. I would strongly recommend Flight Following.
TIP: I found the the down wind leg can be easily made by following the highway 91 in either direction depending on what runway you choose.
TIP: runway 25 is calm use runway, unless it has changed since I was there. Call the airport to make sure though.
FBO:
Im not sure what Corona airport (KAJO) has to offer as far as the FBO because I was too hungry to adventure away form the cafe.
Meeting the Comanche club here for lunch!! Pops posing in the picture.
The fueling situation is a bit abnormal here. It has a very cool vintage feel to it; nearly like a drive up theater.
When paying for fuel, you need to specify what pump you would like to select during the payment process.
Additional fuel can be had over on pump 3 and 4. My memory is fuzzy…. I believe that pumps 3 and 4 are for JET A only.
Near by Accommodations: Anything you could dream about that Corona has….
TIP: Aircraft spruce is a couple miles away and will pick you up and take you to the shop with one phone call. Sometime we fly up here just to get parts we need in a hurry. Call them at 951 372 9555 (as of 10/2017).
Thoughts: This is a very short and fast flight from F70 that keeps the pilot busy. There is a lot of busy airspace around this little quaint airport that draws in a decent amount of traffic, making the area very busy, so stay diligent. I have been to Corona airport (KAJO) several times and each time there seems to be at least one pilot that is not making radio calls while in the pattern, Im not sure if this is normal but it is what I have observed in my experience.
I love this old gem of an airport. It seems out of place in the fast pace modern area of Orange county and Riverside city. When landing at this airport it feels like you have stepped back in time thanks to the old structures, narrow taxiways, abandon planes and ample tie down options that rarely seem to see much traffic. Nostalgia is the word I would use to describe….
As you depart, it is all too easy to notice the MASSIVE amount of freeway congestion and huge cities sprawling in every direction. Corona airport (KAJO) seems like it has stood the test of time among the VAST amount of change this area has seen over the last 50 years.