Trip: 3/2/17
Quick Vlog of our Death Valley trip……
Route:
We jumped in our Comanche 260 and traveled nearly direct from F70 French Valley to the HEC (Hector) VOR south of Baker. From there we head to Baker and finally north up the Badwater basin. Be mindful of the restricted airspace by the HEC VOR and by Baker airport.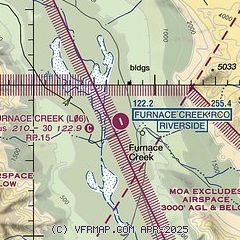 Enroute:

Since nearly the entire west side of death valley is surrounded by restricted airspace, I opted to Fly to Baker airport then up the Badwater basin thru the Panamint MOA. The MOA airspace excludes surface to 3000 AGL, if that really matters to anyone. From there, it is an easy flight thru the valley.
TIP: Joshua approach will lose radar when descending from about 8,000 feet into the valley so plan accordingly.
Time in Flight: Average 1hr 20min.
Airport Environment:
Type: Uncontrolled
Dimension: 3065ft by 70feet
Right pattern 15
Left pattern 33

While this is not at the airport, be aware, the airport is well below sea level!!!
TIP:  Soft dirt surrounds the runway. DO NOT deviate from the runway.
TIP: Apparently there is a phone to call the Furnace Creek Resort for a ride. Im not exactly sure where the phone is because we walked to the Furnace Creek ranch, which is closer that the Furnace creek resort.
TIP: NO ropes for tie downs. Bring your own.
TIP: Final approach on runway 15 has mounds of dirt piled up. DO NOT land before the numbers of 15 other wise you will destroy your airplane.
FBO: No FBO. NO FUEL. Friendly people.
Near by Accommodations:

There are 2 locations that Furnace Creek has, the resort and there is the ranch. The resort is much more upscale and more pricey . The ranch is more family oriented and has accommodations such as rooms, camping (both motor home and tent), golf, pools, tennis, the Corkscrew cafe, and the Borax museum.
The Corkscrew cafe has a bar side and a sit-down restaurant side. The restaurant closes for 1 hr between breakfast and lunch as well as between lunch and dinner. We have only visited the bar side where they serve chicken wings, pizzas and hot dogs. I got the chicken wings and was surprised with the good quality,  but my expectations were fairly low to begin with.
Apparently Sunday brunch is a big "To-do"   At the furnace Creek Inn. I was talking to a fellow pilot at French Valley and apparently there are quite a few people that are flying in just for their Sunday brunch.
Places Stayed:
We did not stay anywhere this trip. There is camping very close to the airport along with lodging at both Furnace Creek Ranch (family oriented) and the Furnace Creek Lodge (more expensive, but very high end).
Thoughts:
The flight to furnace creek was a very enjoyable with a lot of beautiful desert scenery. The Badwater basin was breathtaking it is definitely a bucket list item. The airport was very dynamic  and it was also interesting watching your altimeter sink 200 feet below sea level on final approach. The airport was very easy to get in and out of the surface of the runway was intact and in good condition. I did not notice if there were any landing fees.  I definitely want to come back in camp. They also have the jeep rentals for the day which will allow you to go off routing and explore death Valley. I believe the jeep rentals are about $200 a day.
Thanks for watching,
-May your props always spin.